A 3-Month Online Tribe Experience
AN EXCLUSIVE TRIBE OF WOMEN ON AN INDIVIDUAL AND COLLECTIVE JOURNEY WHERE YOU WILL BE GUIDED & CHALLENGED TO IGNITE YOUR INNER COMPASS BY CONNECTING DEEPLY TO YOURSELF AND YOUR TRIBE.
OUR BELIEF IS EACH INDIVIDUAL IS BOTH TEACHER AND STUDENT
No other person has your answers — you have your answers, but sometimes they are buried deep. Collectively, with a tribe of twelve, we have so much wisdom that can be shared to help one another through the twists and turns of life, encourage one another to walk through the muck to find their answers, their desires and their passions and then applaud one another when we rise.
You will work with the tribe as a whole as well as with a rotating one-on-one partner, using the (B)Curriculum to learn and grow together. The tribe will hold you with gentle accountability, and you will be asked to do the same in return.
THREE MONTHS OF PROFOUND CONNECTION
You've all said your yes, and now the tribe gathers. Through an online "retreat", we introduce ourselves and our vulnerabilities to one another and get to know the flow of the tribe. We will connect, laugh, challenge ourselves and establish our bond and trust.
This is followed by three months of gathering and growing together through bi-weekly video calls, partnership curriculum and a one-on-one session. With your tribe at your side, you say farewell to "good enough", ignite your internal compass and step into your truth.
There is a sacred space in each of us where the truth of who we are resides. Take the call to adventure and let (B)Tribes help guide you to reconnect with your native wisdom while you help others do the same.
OUR APPROACH IS BOTH PERSONAL AND TRIBE FOCUSED
Meet your tribe and establish your bond.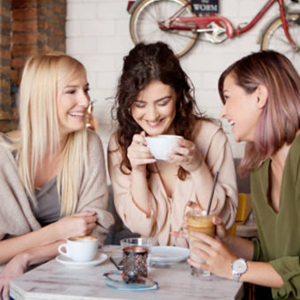 Bi-Weekly Online Group Gatherings
Be nurtured and challenges by your group on bi-weekly 90-min Zoom calls.
Connect deeper to self through Musings & Quests.
Weekly Rotating Partnerships
Connect authentically with each of your tribe members.
One-on-One Session with Keele
Reflect on your individual journey.
 Alumni Testimonials
"It was incredibly pivotal for me, especially at a time in my life when I needed a tribe that could see me through a major transition."
Allison
"I valued seeing inside other people's lives that are hectic and messy and difficult. And you think, oh, we're all struggling."
Victoria
"Having the tribe makes everything seem doable."
Donna
"I was grateful for everyone's willingness to be open and hold each other accountable"
Melissa
"I feel lighter. My heart doesn't feel as heavy. My past doesn't have that tight hold of me. It used to be how I defined myself, but it's not all of me, just a small part."
Helena
"It was hard work! I didn't want to look at my shadow, but damn I'm glad my tribe pushed me. I've finally learned to embrace my full self."
Ann
"I've never had such deep relationships with women, or been so seen and so heard"
Michele
"I feel like every interaction we are teaching each other something."
Michele
"(B) changed my life. I now know my worth, and my new roadmap aligns with my passions. We accomplished so much in just six months."
Jaymi
"Our two guides did a beautiful job of holding us and holding us accountable."
Alissa
"The fact that we were all re-architecting our lives together was insanely powerful."
Jaymi
"I have more awareness of how I am in the world and my ability to control myself more than anyone else. Because really, I can only change me."
Victoria
"It was life changing. It changed who I am and who I'll be in the future and how I'll look at the world."
Donna
"I'm so grateful I gave myself this gift! While it wasn't an easy check to write, it was well worth the financial stretch. Honestly, I had never before invested in myself that way."
Liz
"When I learned about the partnerships, I panicked. What could I possibly have to give? (B) has taught me that we are all wise at our core. I can stand in my worthiness now."
Ann